With women still only making up only 25% of the workforce in the STEM fields in  Canada - science, technology, engineering, and math, it is clear that significantly more work needs to be done to recruit and retain women and reduce the gender gap. 
Fortunately, the future is starting to look brighter!
Within our own community of women in career transition at tellent, we are seeing more and more women exploring STEM careers.
They report that they are, "responding to high-demand jobs," "wanting to find more flexible, work-from-home options," and "feeling confident in their ability to reskill."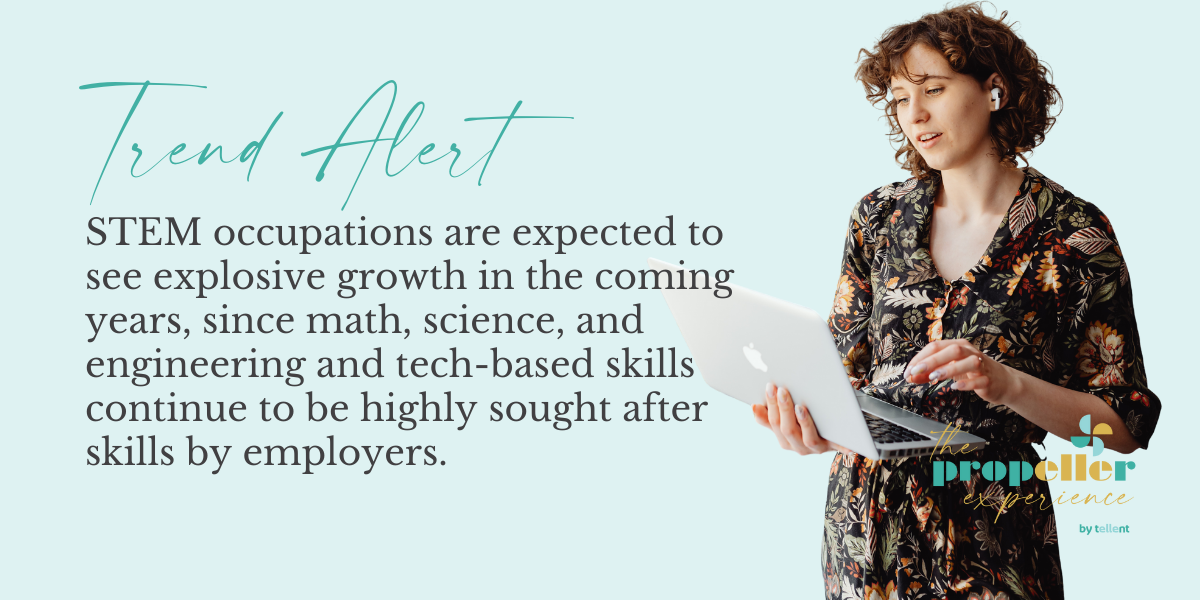 We are helping these women find higher value paid work in these industries and having the important conversations to help women overcome the "confidence gap" that is often experienced by women who are or who were once interested in STEM. 
Amid all the disruption caused by the pandemic, rapid innovation across STEM space happened. Think of the medical and technological advances that had to happen to vaccinate a global population - or keep business running in remote and virtual environments. 
Industry, the government and businesses recognize that we need to rapidly reskill our population. Our economy and innovation ecosystem cannot afford to exclude women in this mass transformation. 
Every employer and every occupation in the near future will require STEM skills. If we want gender equity we must address the barriers that prevent women from moving into, and staying in these professions, including: 
Workplace cultures
A lack of role models and mentorship opportunities. 
Current branding of the industry and what success looks like
Internal belief systems of women built through childhood and gender-based stereotypes and stigmas
What steps do we need to take to create gender parity in these fields? How do we make these industries more accessible, reduce the gender gap, and better support and promote women working in STEM? 
1. improved corporate culture and D&I
Organizations need to take a serious look at their current recruitment and retention strategies in order to attract a more diverse talent pool. Many of the STEM careers have been male-dominated industries for so long, which means that if they want to recruit from a different pool of talent, their diversity and inclusion (D&I) initiatives and recruitment strategies need to change. Additionally, it's important to focus on the overall brand message to attract future leaders of tomorrow. 
2. industry rebranding
In addition to organizations focusing on their internal  strategies, it's important for the industry as a whole to rebrand in order to overcome outdated perceptions. With persistent stereotypes and misinformation about the types of jobs available in STEM, it's important to simultaneously change the conversations and branding around STEM. Early on, educators and leaders have the opportunity to empower and encourage more women to develop a passion for mathematics, tech and sciences through diverse experiences and positive mentors! It's also important to demystify what it means to work in STEM. Showing examples of women in all fields of science, technology, engineering, and math will help to show the breadth of skills, experiences,  training and careers that are available! 
3. addressing internal belief systems
Women face a real confidence gap when it comes to STEM careers. 34% of women were more likely to say that STEM jobs are hard to understand compared to men. And, only 22% of young women name technology as a favourite subject in school. We know that confidence is a primary driver for job success, even more so than skillset, so it's important to tackle these types of mindset hurdles head on if we want to drive more women intoSTEM!
4. mentorship & networking
One of the biggest challenges that women in STEM face is a lack of mentorship. Educators can help provide opportunities for others to inspire learners and build relationships. Women role models in STEM have continued to grow over the past several years, which only further paves the way for women to have a successful future in the fields of STEM. The more role models that we see, the more likely we are to consider a future STEM career or education options.
As we continue to recover from the global economic disruption, STEM knowledge will continue to be a powerful resource in the workforce. By addressing systemic challenges and focusing on representation we can continue to close the gender gap and see more women join these industries!
about tellent
Tellent bridges the talent gap in the new work economy and aims at increasing women's economic contribution, progressing gender equity and preparing companies for evolving workforce trends in order to stay competitive in the future of work. The platform includes the Propeller Experience, an 8-week job accelerator program, free job board, Champion Employer programs and virtual networking events.
about randstad canada
Randstad Canada is a leader in the HR services industry and specializes in flexible work solutions. As a trusted partner in the digital world of talent, we combine the expertise and passion of our people with the most innovative HR technologies to support talent and organizations in realizing their true potential.