With the pandemic creating an all time high of women leaving the workforce and a huge influx of candidates flooding the market in search of new employment, competition is fiercer than ever before. We're seeing that just hoping our natural talents will be recognized and rewarded simply isn't happening. What's more, if nearly your entire industry has been laid off, you might be trying to identify how you can transfer your skills and position yourself as an ideal candidate in a completely new sector.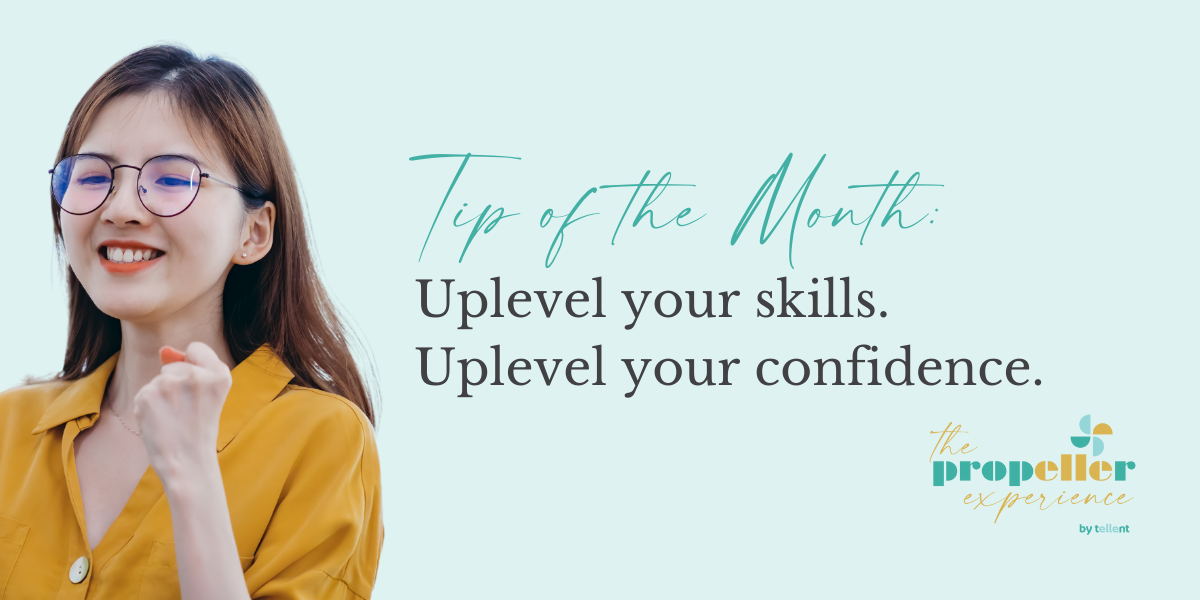 Jennifer Hargreaves, founder of tellent and the Propeller Experience, can sympathize: "This is very intimidating. It's important to note here that confidence matters as much as competence. So if the posting appeals to you, apply for that job, even if you feel you are lacking many of the key skills. Build a case for how you could bring a different perspective to the new role. Because I guarantee you, there are others applying to that role who are even less qualified than you."
So you are still feeling uneasy and lacking the mojo to apply to that new job or go for that promotion? Or you're completely overwhelmed with all the new tools and tech you need to work remotely. Jennifer shares: "I can't deny the power of upleveling or learning a new skill to feel more self-assured before you present yourself as the ideal candidate or to simply feel more confident in your current role. It's putting your best foot forward. It's why we created the robust skills training modules within the Propeller Experience. We've identified the three skill sets desired by top employers, and developed a curriculum to support these to fast track your skills and knowledge (aka, confidence) in each of them."
Propeller Experience learners can choose from:
digital skills
For those who are tech-overwhelmed, time crunched, seeking remote work or entering the gig economy, this module will give you the tools, strategies and know how to be an effective remote worker and leverage the increasing opportunities in tech. This module works to demystify technology and make it your friend.
leadership
For those who are ready to move up a level and lead with authenticity, authority and inclusivity in our new economy, this module will teach you how to operate effectively through the rapid change and uncertainty the pandemic has created in the workforce, arming you with the trends, best practices and research backed skills to lead with confidence or transition into your next leadership role.
entrepreneurship
This module isn't just for those who believe their own gig could be the answer to doing what they love and working how they want, it's also for those who want to bring more entrepreneurial value to their current organization. This module covers what it takes to be an entrepreneur in this new normal, teaching you how leveraging your unique skill set or passions can help you build your own meaningful work, along with the tools to refine your business idea and offering, find your customers and market and sell effectively (aka profitably) to customers. Similarly, if you're an employee you'll be able to transfer these skills to support employers who are looking for entrepreneurial leaders within their forward-thinking organizations.
Can't choose just one?
Learners are welcome to complete all three modules in the program. Developing these skills will give you learners the confidence to walk the walk and talk the talk, for whatever career goals they have set out for themselves. You can read more details on each skill stream here.
To learn more and get involved, please visit propellerexperience.com.
about tellent
Tellent bridges the talent gap in the new work economy and aims at increasing women's economic contribution, progressing gender equity and preparing companies for evolving workforce trends in order to stay competitive in the future of work. The platform includes a job board and virtual networking platform.
about randstad canada
Randstad Canada is a leader in the HR services industry and specializes in flexible work solutions. As a trusted partner in the digital world of talent, we combine the expertise and passion of our people with the most innovative HR technologies to support talent and organizations in realizing their true potential.