We hear a lot about the Great Resignation, but what we don't hear a lot about is what's causing this Great Resignation, more specifically, when it comes to women. Are women just resigning, just quitting to quit? Are they feeling unvalued? Have their values changed? 
What is the main driving factor behind the high rates of attrition we are seeing in the market?  I believe it is from a  lack of engagement, and I think women aren't just quitting or "resigning", they are consciously evaluating how work can work better for them… somewhere else!
Whether it's you as an employee, or you are an employer company, a lack of engagement at work is driving  this great "reshuffle". If your employees  are not engaged, they will start looking for other opportunities outside of their current company. Right now in the market, many workplaces are facing a huge challenge and problems with engagement or lack thereof.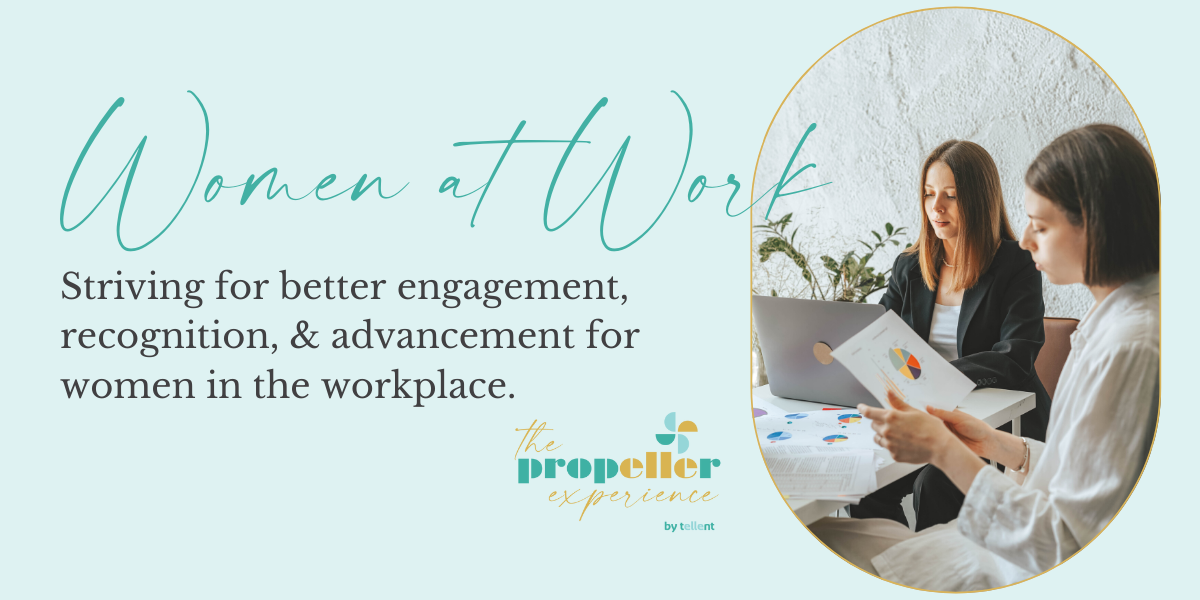 the employer side
If you want to advance women in the workforce, you as a people leader  need to understand what your employees want and need at work. When their needs are being met, professionally and personally, they are more engaged.  A lack of engagement will put your productivity, innovation and retention at risk. Getting to know the women on your team and within your organization is certainly worth the effort. But it isn't good enough to  assume you know the answers - so much has shifted over the course of the pandemic. To understand your employee's wants and challenges, you need to ask. It's as simple as that. You can't go on thinking that the plan you had for them, or even made with them,  pre-COVID, is what they want now. Because that person might not be who they are anymore, it might not be what they want anymore. 
So let's start those professional development plans again and challenge our assumptions!  Ask your team what has changed for them over the past two years  - professionally but also personally?  Prioritize the time it takes to figure out what their individual version of success looks like and how you can help them to achieve that within your organization. 
For some it might be flexibility in how and where they work, for others it might be learning and growth and for others still it could be transitioning into different parts of the organization.  
No two individuals are the same. Not all careers will look like a ladder, not all versions of success of the same. There is a war for talent on right now. If you want to keep your talent and leverage their full capabilities through increased engagement, now is the time to get curious and build out a people strategy that will see women thrive in your organization.  
the employee's side
During the pandemic, people's attention was directed toward things taking place outside of the office. Our focus has swayed from work to you thinking about how to keep our family and friends safe, and how to manage to homeschool your kids, to a new dynamic in family life, whether working from the house or returning to the office. Now that our focus has had to adjust back to work—because of the pandemic settling down—people, especially women, are becoming more disengaged. 
This sudden big push to go back to the office or adapt to a hybrid model of work has left many people rethinking their jobs, especially women who bear the brunt of domestic tasks. Since we lived with COVID for so long, we've been living life differently, and for some, more comfortably. Now businesses are asking people to come back to work—this is when disengagement happens. Many women are asking themselves, "how much energy do I want to put on this when I am focused on other issues?" 
If this is you, know that you're not alone. If you are thinking about other things outside of work that bring you joy, then I suggest taking a step back or just a little pause and asking yourself, what is it that I want? And be prepared to answer that question honestly. 
It's a talent-centric job market out there right now. Many different companies are looking for great talent like yourself. There are great companies that offer great internal policies and work-life balance. So if you're not engaged anymore, you don't need to settle. If your current position isn't what you want, or it's not aligning with your career goals, your worth, or your life anymore, there are way more options out there than there were pre-COVID. 
I recommend to all women to write all their wants in a job and company down and get super clear on what it is that they want. It's the mindset that you need to create what you want. Don't worry about those negative thoughts that you may have, we all have them. You might not think that you can have the job you want because of a lack of experience or knowledge, or you might think your employer might not go for what you want or see yourself in. My advice is to ask yourself, is this an absolute truth? Because there is so much opportunity, now is the time to go and ask for it. And ask yourself, what do I have to lose by asking for it? 
what you can do
There is some great information out there to help you through the process of getting re-engaged in the workplace. The Propeller experience has a great workbook on how to negotiate and loads of other resources to help you navigate what it is that you want and how to get yourself there. This workbook will help you understand your value, get clear on what you want, pull your wins out, and reflect on all your successes that you have had to boost your confidence and know your real worth.
Know what you want, build your case, and work on your mindset. Always remember you are worthy.
Now it's time to ask for what you want.
about tellent
Tellent bridges the talent gap in the new work economy and aims at increasing women's economic contribution, progressing gender equity and preparing companies for evolving workforce trends in order to stay competitive in the future of work. The platform includes the Propeller Experience, an 8-week job accelerator program, a free job board, Champion Employer programs and virtual networking events.
about randstad canada
Randstad Canada is a leader in the HR services industry and specializes in flexible work solutions. As a trusted partner in the digital world of talent, we combine the expertise and passion of our people with the most innovative HR technologies to support talent and organizations in realizing their true potential.
contact us
Want to learn how to transition into a new career path? Or have questions about women in the workplace? Let's talk!
learn more