10 years ago, an initiative that would soon become Women Transforming the Workplace emerged. We invited a small panel of Toronto business women to discuss what it means to be a woman in the world of work. Since then, not only have our initiatives grown in size and reach, but so has our drive to transform the workplace.
Over the past decade, Women Transforming the Workplace took on many forms, but one thing never changed: a need to challenge the status quo and give a voice to those who are often left unheard. The program tackled issues like unconscious bias, digitization, and the impact of COVID-19. It also provided solutions to these issues, through roundtables, white papers, and conversations with experts. This fuelled our commitment to the advancement of women. Now, we invite you to join us as we celebrate 10 years of empowerment, meaningful change, and workplace transformation.
We partnered with Canadian artist Maïa Faddoul to design an exclusive T-shirt that highlights the impact women are making in the world of work. All proceeds from the T-shirt will go directly to Up With Women.
buy now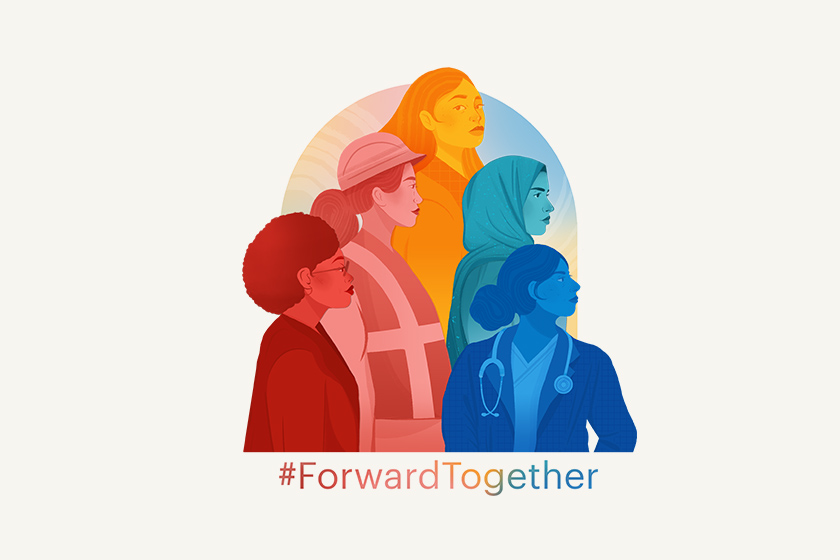 getting creative with maia faddoul
As we approach the program's 10-year anniversary, we're proud to announce a meaningful collaboration. Women Transforming the Workplace is partnering with Montreal-based illustrator and designer, Maia Faddoul, to create an artwork that truly celebrates what women in the workplace are capable of. Empowering, bright, and colourful, Maia's work reflects the values of the program. The artwork showcases the diversity of women, the breadth of their skills and knowledge, and hopes for the future. To make this artwork accessible to all, we're excited to design a unique t-shirt that will allow everyone to join the celebration! 
Get your own T-shirts now. All proceeds will be donated to Up With Women.
joining forces for impactful change
Up With Women is an organization that supports homeless and at-risk women and non-binary people. This partnership celebrates the evolution of Women Transforming the Workplace through the years: not only have we shared valuable research and resources, we've also gained deeper insights into real challenges that still exist. We've learned that career paths are diverse and no journey is the same. Conversations with Gina Cody and Sylvia Apostolidis remind us of the importance of uplifting women. Dominique Anglade speaks out about barriers that still need dismantling. Connecting with Chris Bergeron teaches us that gender identity can have an important impact on professional life. This is why we're proud to work with Up With Women to give women and non-binary people a fighting chance at building (or re-building) their lives and careers.
Meet some of the women who paved their paths out of poverty with the support of Up With Women.
kim became an entrepreneur
Kim worked with a coach to secure part-time employment and launch a small cosmetics company. She is now also a Registered Corporate Coach.
ingrid broke disability barriers
Visually impaired mom, Ingrid struggled to find a job despite having a Bachelor's degree. Even though she is highly qualified, her disability became a barrier and she felt overlooked for many career opportunities. She and her coach worked together to build her career as a motivational speaker and advocate for low-income parents.
joweria overcame homelessness
Joweria is a single mother, refugee, and law-degree holder from Uganda. With the support of Up With Women, she went from living in a shelter during COVID-19 to realizing her true potential. Joweria found work as a full-time personal support worker, secured daycare for her son, and settled into her own apartment.
looking towards the future of work
Despite a decade of research, community-building, and co-creation, there's still progress to be made. The world of work is ever-shifting. We must keep the dialogue going and amplify all voices to build a future that is fair, balanced, and equitable. We look forward to seeing you in the next phase of the program! 
For more success stories
#ForwardTogether
want to learn more about women transforming the workplace?
We've had quite the journey over the last decade. Discover key learnings from the last 10 years.
discover now